SaferSurf Geo-Proxy Help
Via the tray icon you can retrieve information on the current status of SaferSurf or change settings at any time.

Click on the tray icon in order to change the IP location.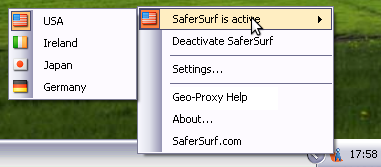 Make sure that SaferSurf is active. If SaferSurf is not active, click on Activate SaferSurf.
Now click on the navigation entry SaferSurf is active and select the desired IP location.

After changing the IP location, the new IP location is displayed.
Please refresh the currently opened web pages in your browser to use the new proxy settings (press F5 in Internet Explorer).